Covid-19 Daily Bulletin
01 May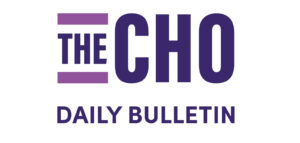 A series of daily updates for CHO members regarding relevant updates pertaining to Coronavirus from home and abroad.
Key Announcements
Boris Johnson returned to hosting the daily press conference last night.
The number of fatalities from Covid-19 has risen to 26,711, including deaths in care homes and the wider community.
The Prime Minister has said the UK "was past the peak" of the virus outbreak and will set out a comprehensive plan next week on how to restart the economy.
New data shows that "at least five other people had died from the coronavirus in the UK" before the Government reported the first death from the outbreak.
The Government have released a video explaining the R Value (indicative of the average number of people that an infected person would spread the virus to).
New figures show that a total of 8,877 fines for breaches of the Coronavirus Act have been handed out in England and 299 in Wales in the month since the law came into force.
Manchester has announced plans to close part of one of its main streets to cars and widen the pavements along others in order to help people walk and cycle safely while maintaining physical distancing.
The UK's Equality and Human Rights Commission (EHRC) has warned that GCSE and A-level grade assessments should not unfairly penalise children from minority ethnic backgrounds, or those with special educational needs.
Ryanair has announced plans for 3,000 job cuts and revealed it expects to operate under 1% of its schedule between April and June
The government is "likely to get very close to or meet" its target of 100,000 daily coronavirus tests, Transport Secretary Grant Shapps has said.
More than 3,000 extra police officers have joined the force following recruitment drive.
The death rate among British black Africans and British Pakistanis from coronavirus in English hospitals is more than 2.5 times that of the white population.
Boots will offer safe spaces for victims of domestic abuse from Today.
Rugby league in England will receive £16m in government loans to help it recover from the impact of the coronavirus pandemic.
Captain Tom Moore's extraordinary fundraising efforts have come to an end raising nearly £33m for the NHS.
More than one million people across the world are known to have recovered from the virus, according to Johns Hopkins University.
International   
US President, Donald Trump told a press conference that he has seen evidence which gives him a high degree of confidence that the coronavirus originated at the Wuhan Institute of Virology.
Los Angeles has become the first major US city to offer free coronavirus tests. The website used for the sign-ups strained under the demand as appointments were completely booked for anyone not showing symptoms.
The EU's foreign affairs chief, Josep Borrell, has denied claims that a report alleging disinformation tactics by the Chinese government during the pandemic was edited because of pressure from Chinese authorities.
Brazil has reported a record 7,218 confirmed new cases of coronavirus in the last 24 hours, raising the total to 85,380, Reuters reports the health ministry saying on Thursday.
Authorities in Denmark, which became the first country outside of Asia to ease lockdown measures a fortnight ago, said the spread of Covid-19 had not accelerated since doing so.
World Health Organization officials in Africa have said the Covid-19 outbreak is still increasing across the continent despite widespread efforts at containment.
Russian Prime Minister Mikhail Mishustin has said he has been diagnosed with coronavirus and will self-isolate from the government.
Germany is to re-open museums, galleries, zoos and playgrounds and allow religious services to resume, in measures agreed by the chancellor, Angela Merkel, and the leaders of 16 federal states.
Stakeholders    
Unite national officer for health Jackie Williams said: " Unite strongly supports that a risk assessment strategy is introduced urgently for Black, Asian and minority ethnic (BAME) staff in the NHS in relation to coronavirus."
National Police Chiefs Council (NPCC) Chair Martin Hewitt, said: "With over 3,000 additional officers already joining policing in the past seven months, we are well on our way to meeting our target of 6,000 by March next year."
Marsha de Cordova MP, Labour's Shadow Women and Equalities Secretary, responding the IFS report on some ethnic minorities dying in disproportionate numbers from COVID-19, said: "These figures once again reveal the disturbing impact of the coronavirus crisis on BAME communities across the country. It is extremely alarming to see such a high excess mortality rate among ethnic minorities and it cannot be ignored."
A new report by the Trussell Trust, said it handed out 81% more emergency food parcels in the last two weeks of March, than at the same time last year. Chief executive Emma Revie said: "Like a tidal wave gathering pace, an economic crisis is sweeping towards us, but we don't all have lifeboats."
Unconfirmed reports
Hundreds of ventilators the UK purchased from China 'are the wrong type and could kill patients if used.'
The Prime Minister is set to offer a "menu of options" for lifting restrictions next week, including in schools and offices as well as travel, social gatherings and sports.
The Government are set to make a U-turn over advice on face coverings.