Our Members The CHO runs a range of events around the country, designed to bring CHCs and our associates together and provide you with the training and insights you need to drive your business – and the industry – forwards.


---
Friday
The CHO Raceday
Race against Nigel Mansell CBE in a 2 hour endurance event.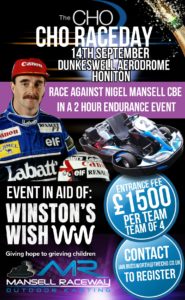 Entrance fee £1500 per team of 4.
Event in aid of our chosen charity Winston's Wish.
Contact ian.budsworth@thecho.co.uk to register


---
Tuesday
Manchester Regional Meeting
More details to follow


---
Wednesday
Birmingham Regional Meeting
More details to follow


---
Tuesday
London
London Regional Meeting
More details to follow


---
Wednesday
Bournemouth
Bournemouth Regional Meeting
More details to follow


---
Thursday