International Rugby Star to Speak at Conference
03 Oct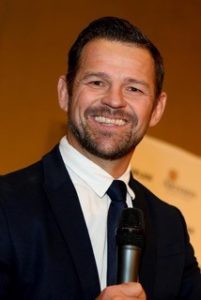 Former England and British Lions rugby star Lee Mears to speak at the 2019 Conference.
In an impressive career spanning 20 years, Lee played in two World Cups, amassing over 40 England caps, a tour with the British Lions and a club record 168 appearances for domestic side Bath.
Having retired unexpectedly in 2013 following a health concern, Lee sought the help of an Executive Coach to re-evaluate his future. Using his team and people development skills Lee now coaches across the world as a partner in The Preston Associates, one of the world's leading Executive Coaching companies.
Using a fresh approach to business, the former England star delves in to his extensive knowledge and experience at an elite level of sport and business to draw a strong correlation between the two worlds and striving for one common goal.
Lee Mears, whose speech is sponsored by T-cup, is part of an exciting line-up of industry experts speaking at the 2019 CHO Conference, following the announcement of Customer Strategy expert Tim Sefton, with further speakers to be released in due course.
Alongside these speakers, we will be hosting a panel debate, featuring experts from across the industry, on the potential impacts of Brexit on the Credit Hire industry – a debate which promises to be lively and informative.
Tickets for the 2019 CHO Conference are now available, with two conference packages available:
– Conference only
– Conference & Evening Dinner with entertainment
Please click here to purchase your tickets.
CHO Members receive two free tickets to the conference, please ensure these are claimed online.